Welcome to the
Cercle Munster
Luxembourg Private Club
Discover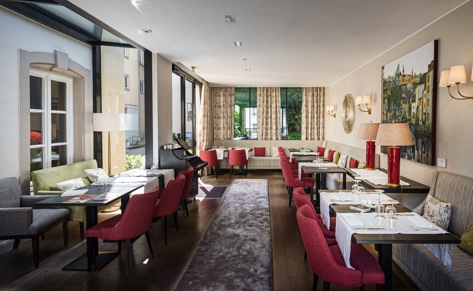 The Cercle Munster
Located at 5-7 rue Munster, a suite of 17th century houses situated on the banks of the Alzette in the historic Grund quarter, the club has provided a discreet welcome for members and their guests since 1984.
The Cercle Munster offers its members a gracious home-from-home facility in which to hold business meetings, receptions and family meals or just spend time with fellow members.
Surprisingly spacious, the Cercle Munster offers its members a choice of venues in which to entertain guests; a Bar in the British style, a gourmet restaurant entirely restyled in 2020, the French brasserie and a Wine lounge.
An outstanding wine cellar
The reputation of the Cercle Munster is intimately linked to its wine Cellar that contains 1,500 distinguished labels and some 40,000 bottles. These wines are placed at your disposal, for tasting and to enhance the gastronomic pleasure of convivial moments.
The scale of our Cellar is such that the great majority of labels are available for purchase for consumption off-site. Our sommelier will make sure that your visit is engraved in your memory and that you will keep a tasty souvenir of our cellar by suggesting wine but also gourmet plates.
Why become a member?
A club for selected members only
An exceptional restaurant and wine cellar
Members-only events
Reciprocal agreements with 215 exclusive clubs around the world
The Cercle Munster Luxembourg, an institutional place dedicated to your service and satisfaction.
An iconic place
The Cercle Munster welcomes you
from Monday till Friday 11h00 am to 01H00 am
and on Saturdays from 6h00 pm to 01H00 am
From 08h00 am to 11h00 am on reservation only
Lunch is served from 12h00 am to 2h00 pm , dinner from 7h00 pm to 9h30pm.
The Cercle Munster remains closed on Sundays and public holidays.
Contact
CERCLE MUNSTER
5-7 Rue Münster,
2160 Luxembourg